Welcome to OC Cosmetic Surgery Clinique
Selecting a plastic surgeon is a personal and important decision. In Orange County – at the leading edge of plastic surgery procedures and techniques – Choosing OC Cosmetic Surgery Clinique could be you smart decision. OC Cosmetic Clinique is home to a highly skilled cosmetic surgeon in different fields of plastic and cosmetic surgery.
Whether you are coming in for a quick filler or BOTOX® treatment, or a more complex plastic surgery procedure such as Rhinoplasty or Tummy Tuck, you can rest assured you are in good hands with Dr. Tavoussi. Your consultation will be thorough and unhurried. Dr. Tavoussi will answer all of your questions regarding your procedure and provide you with a treatment plan to help you achieve optimal results. Dr. Tavoussi is experienced in Ethnic Rhinoplasty, Latin rhinoplasty, Asian rhinoplasty and African-American rhinoplasty.
Dr. Tavoussi has invented numerous techniques for refining ethnic noses. His ART™ rhinoplasty is a novel and unique technique for large, wide nose with a bulbous tip. Dr. Tavoussi recently presented this Technique at the prestigious Rhinoplasty Society to the international group of expert rhinoplastic surgeons from around the globe.

This technique allows reduction of the wide nose without detectible scars. Dr. Tavoussi is innovator of ART™ Rhinoplasty, an expert in complex rhinoplasty procedures. He is a top Rhinoplasty surgeon on RealSelf.
About Dr. Tavoussi
D.O., FICS, FAACS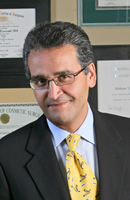 Dr. Tavoussi has published numerous scientific articles over many years of research and has been in the forefront of combining the accepted scientific knowledge in Plastic surgery with his artistic talent in order to achieve the best results. After he obtained his bachelor degree at the University of Surrey in Guildford, England, Dr. Tavoussi was granted two medical diplomas upon completion of his medical studies. He received his medical diploma from Santiago University in 1984 and his osteopathic medical diploma from Western University of Health Sciences in California in 1989.
Fellow American Academy of Cosmetic Surgery
Fellow International College of Surgeons
Fellow American Academy of Otolaryngology-Head and Neck Surgery
Fellow American College of Osteopathic Otolaryngology-Head and Neck Surgery
Past President American College of Cosmetic Breast Surgery

Earn Rewards & Save Money?!
Want them both? Simply become a member of this program and you'll soon find opportunities to get them both: Brilliant Distinctions® Program