DO, FICS, FAACS is Board-Certified in Facial Plastic Surgery & Diplomat of American Board of Cosmetic Surgery.
Fellow American Academy of Cosmetic Surgery
Fellow International College of Surgeons
Fellow American Academy of Otolaryngology-Head and Neck Surgery
Fellow American College of Osteopathic Otolaryngology-Head and Neck Surgery
President, Fellow and Diplomat American Society of Cosmetic Breast Surgery
---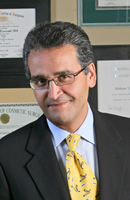 Dr. Tavoussi has published numerous scientific articles over many years of research and has been in the forefront of combining the accepted scientific knowledge in Plastic surgery with his artistic talent in order to achieve the best results. After he obtained his bachelor degree at the University of Surrey in Guildford, England, Dr. Tavoussi was granted two medical diplomas upon completion of his medical studies. He received his medical diploma from Santiago University in 1984 and his osteopathic medical diploma from Western University of Health Sciences in California in 1989.
After completing his general surgical training at Northeasthern Hospital in Philadelphia, PA, he subsequently completed his Head and Neck and Facial Plastic Surgery training in Philadelphia at various prestigeous medical centers including PCOM affiliated Hospitals, MCP, St.Christopher Hospital for Children, Graduate Hospital and Plastic Surgery Centers in Philadelphia and  Pittsburgh, PA; Birmingham, AL; Buffalo, NY; and Los Angeles, CA. Dr. Tavoussi combines the Art and Science of Cosmetic Plastic Surgery to obtain unparallel results for his patients. His practice philosophy is to recreate the natural beauty of the human body by restoring natural harmony of shape and form with structure and function.
He has successfully restored the natural beauty to patient's face in a number of very complex secondary procedures where there has been disruption of form and function leading to disharmony (see secondary rhinoplasty photographs). Having worked on many patients with different ethnic backgrounds, Dr. Tavoussi has come to appreciate the diversity of patient's desires with respect to maintaining their ethnic identities after cosmetic procedure (see Asian Rhinoplasty photographs).
Dr. Tavoussi has appeared on:
    Good Morning America
    KABC/Channel 7
    KCAL/Channel 9
    KFOX/Channel 11 in Los Angeles
He has written a number of scientific papers and has expertise in the following fields:
    Tummy Tuck
    Nasal Plastic Surgery
    Plastic Surgery of the Eyelids
    Face Lift
    Endoscopic Forehead Lift / Mid Face Lift
    Asian Plastic Surgery
    Cheek Implants
    Laser Skin Resurfacing
    Lip Augmentation
    Chemical Peel
    Complete Rejuventation of Facial Skin
    IPL Hair Removal
    Photo Facial Treatment
Dr. Tavoussi lectures frequently in national and international cosmetic surgery conferences and has presented his unique and novel techniques in rhinoplasty, abdominoplasty, breast surgery as well as post bariatric reconstructive cosmetic surgery to his colleagues. He has been practicing Cosmetic Surgery for 20 years and has performed thousands of successful cosmetic surgeries. He continue to teach and lecture at numerous national and international meetings.